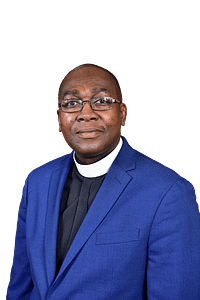 BRIEF BIOGRAPHY OF REV. SACKEY-HUGHES
BIRTH AND PARENTAGE
Pastor Samuel Sampson Sackey-Hughes was born to Rev. (Rtd) James William Sackey of blessed memory and Mrs. Nancy Sackey of the Church of Pentecost, in Winneba Ghana. He is the last of seven children born to both parents.
EDUCATION
He started his primary education at the Tema Community 5, number 1 primary school in Ghana. He then continued at the Tema Shields Experimental School, Ghana where he graduated as the best student in 1983. He continued with his high school education at the Ghana Secondary Technical School (GSTS), Takoradi from 1983-1990 where he obtained both his "O" and "A" level Certificates. He had his University education in Ghana at both the Kwame Nkrumah University of Science and Technology (1991-1996) and the University of Ghana, Legon (2000 – 2002) earning his BSc Agric. (Economics) and Bachelor of Laws degrees respectively.
He currently holds a double master of Laws degrees from both the Georgetown Law Center, DC and the Ohio State University Moritz College of Law. He also holds a professional law degree (Barrister at Law) from the Ghana School of Law.
WORK EXPERIENCE
After his call to the Ghana Bar, he joined the renowned law firm, Akufo-Addo, Prempeh and Co., and practiced as an associate member from 2004-2008. Within that same period, Pastor Sackey-Hughes was employed as an adjunct lecturer in company law at the Regent University College, Accra Ghana.
His immense understanding of Company law led to his employment as Legal Manager and Company Secretary in 2006 at the Metro Mass Transit Ltd, a nationwide transport company established by the then President of Ghana. He combined both his private legal practice and corporate work until his migration to the United States in 2008
FAMILY LIFE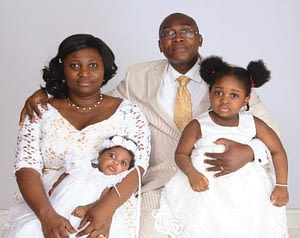 Pastor Sackey-Hughes is married to a beautiful wife- Mrs. Doreen Sackey-Hughes who holds a B.A. in Secretaryship from the University of Cape Coast, Ghana. Since her migration to the USA, she served as the secretary to then Pastor Tekper at the New York Regional office and also as the Chicago Regional Women's secretary. She also worked with the Chase Bank until their transfer to the Delaware District. The couple is blessed with two very beautiful girls, Princess Samantha and Royal-Daniella.
ACHIEVEMENTS
Pastor Sackey-Hughes is a very talented minister. He is a gifted preacher, leader, conference speaker, and an avid musician. He has been an example to the Youth for over 20 years and has always held very responsible positions both in his educational and employment life. He was appointed Head of the Legal Department at the Metro Mass Transit Ltd (MMT) when he was in his thirties and he greatly contributed in restructuring and making the company economically viable.
He has also nurtured and mentored several members of the church of Pentecost, who are now in full-time ministry and has been involved in church planting in some of the remote areas of Ghana since his student days.
In his first Station as a minister, God used him to plant five assemblies within a space of two years, thereby transforming the Phoenix District from a one assembly District to a multi-assembly District. One of these assemblies is a Spanish Church established to cater for the Spanish population in Phoenix Arizona.
Under his leadership, the Atlantic City District was created out of the Delaware District. Additionally, the Delaware District constructed a 5-bedroom state of the art Mission House that is located on a half-acre plot of land in Middletown Delaware. The PIWC-Dover assembly also acquired a new place of worship during his tenure.
Rev. Sackey-Hughes is the first and only Minister in the Church of Pentecost International who is an Attorney by Profession and also the first Deacon to be called into the full-time ministry in the United States of America.